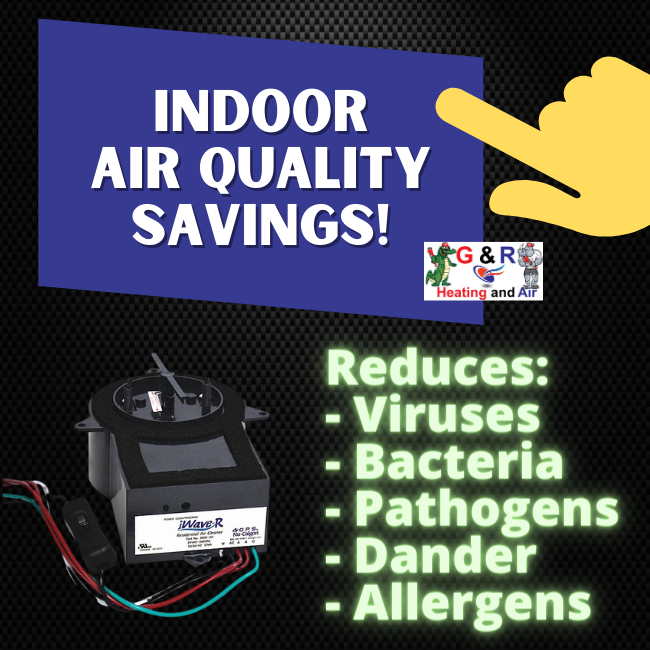 *** Call (224) 419-5324 — 24 Hours A Day — Or Contact Us To Save $100 Off Your Whole Home Air Purification System Or $50 Off Your In-Duct UV Light System!***
Hi! Thanks for clicking on our ad. We know you have a lot of choices in the heating & cooling world, and we're looking forward to earning your business.
If you're a new customer, call us to see how you can save on a whole-home air purification system or UV light sanitizer system.
Home Air Filter, UV Light Air Purifiers, And Whole-Home Air Purifiers
The quality of the air in your home is important for the health of you and your family, which means it is important to us. At G & R, we know that the health of your family comes first. Having an efficient and proper functioning air filter and/or whole home air purification system can help family members suffering from allergies and asthma, and can also help fight the spread of mold, spores, and other bacteria. Let G & R service your air quality systems to ensure your family stays healthy and happy with clean air flowing through your home.
G&R Repairs, Services, And Installs All Makes And Models Of UV Lights, Whole Home Air Purifiers, And Humidifiers
We service and install all types and models of air filters, UV light air purifiers, and whole home air purification systems — including the iWave-R whole-home air purification system.
We Are COVID Compliant
Your safety and health is our #1 priority. Our technicians follow strict sanitization and social distancing guidelines, and will not enter your house without wearing a mask or facial covering. We ask that our customers do the same as well while our technicians are present in a shared space. If either you or our technicians are experiencing any COVID-like symptoms or have been exposed in the last 14 days, we may ask to reschedule your services or to request that you not be present at the time services are rendered.
With taking every possible step to ensure safety during your visit, other aspects of how we do business have changed as well. For example, we take every effort possible to provide information or estimates remotely or over the phone, including our virtual HVAC technician service. We prefer contactless payment options whenever possible.
However, what has not changed is our fast, friendly service, our experienced technicians, and our commitment to our communities we serve.
Humidifier Service And Installation
We also install and service the most trusted brands in whole-house humidifiers from Aprilaire and Honeywell. These whole home humidifiers are usually installed in your existing HVAC system to manage the moisture level in your entire home. There are many benefits to installing a whole home humidifier for both health and comfort!
Here's what you can expect from us:
The cleanest air possible flowing through your entire home
Maximum equipment life through controlling mold and particulates in the ducts
Our friendly, knowledgeable, and professional service technicians will arrive within a two-hour window of when your appointment was scheduled.
You will receive a full one-year warranty on all our work.
Satisfaction guaranteed!
Our services include:
Removing old home air filters and UV light air purifier systems
Installing new, high efficiency home air filters, UV light air purifiers, or whole-home ionic air purification with iWave
Repairing all brands of air filters and UV light air purifiers equipment and controls
Tuning and optimizing your indoor air quality equipment
Air filters and UV light air purifier clean and check inspection
Air Filters/Cleaners/Purifiers
Remove bacteria, mold, and other irritants from the air in your home with one of these powerful air purification or filtration systems. They are easily installed and work in tandem with your heating and cooling systems. These air filters, cleaners, and purifiers yield dramatically cleaner air every day.
UV Germicidal Lights
UV lights for HVAC, also known as UV germicidal lights, use intense rays of ultraviolet light to control and kill contaminants like viruses, bacteria, yeast, and mold. Installed inside your HVAC duct system, they are designed to extend the life of your equipment and help to sanitize the air in your home as well. They can often be used in tandem with other air purification systems such as the iWave, explained below.
Whole-Home Ionic Air Purification With IWave
iWave whole-home air purifiers utilize positive and negative ionization to efficiently scrub the air flowing throughout your home, and have been proven effective in reducing allergens, viruses, particulates, and pathogens throughout the air you breathe. The iWave-R can be installed in virtually any existing residential HVAC system.
If you're concerned about your home's air quality, contact G & R today! We provide HVAC services to a wide area in Northern IL and Chicagoland.